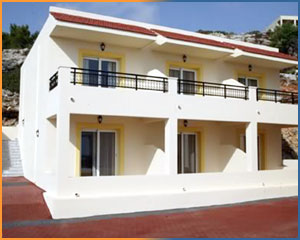 Name: Coloma Apartments
Owners: Savvas & Katy Markiou
Location: Main Road, Pefki, Rhodes, Greece
Rooms: 7 Studio Apartments (Each sleeps 2/4)

Tel/Fax: (Greece) + 30 22440 48219
Tel: (Greece) + 30 22440 48201 (09:00 - 17:00 May-October)
Mobile: (Greece) + 30 69 77 54 9804

Email: cmarkiou@gmail.com
Website: https://www.colomaapartments.gr


Nestling on a hillside overlooking Pefkos and with far-reaching views along the beautiful coastline, you will find Savvas and Katy's luxurious Coloma Apartments, just a short walk from the beaches and the centre of the village.
Completed and open since May 2004, these spacious, air-conditioned (cost included) studios have been built, furnished and equipped to an exceptionally high standard and will provide you with a wonderful environment in which to enjoy your special holiday.
Each of these beautifully decorated rooms can accommodate a couple or a family of four in spacious comfort. You can choose between a large double bed or twin beds in the bedroom area and there are two sofa beds in the living area, with sliding doors providing privacy between the two. A roomy wardrobe and a large chest of drawers provide plenty of storage. The bathrooms are beautifully finished with a large mirror and bath with shower and hairdryer.
The studios are perfect for a couple or a family of four. Due to the lack of privacy they are not really suitable for two couples. Maid service is provided 6 days per week and linen and towels are changed twice a week.
Other facilities include: cable TV (with some English-language channels), hairdryer, kitchenette with fridge, hob, kettle & toaster. There is also a safe in the studios and late departures can be arranged, both at no additional cost.
Prices 2020* (Studio Apartment, Sleeps 2/4)

Rental Periods

Per Day
(1-2 people)

Per Day
(each extra person)
(max 4 per studio)

May - October

50 euro

15 euro

June - July - September

55 euro

15 euro

August

60 euro

15 euro
The prices includes daily maid service, excluding Sunday and water and electricity, including use of air-conditioning*.
* You should be aware that many owners charge an additional amount to use air-conditioning. It is our policy not to do this although we would ask you to be thoughtful to the environment and to conserve both the use of water and electricity.
* We charge 15 € per day (each extra person).
Outside
Each Studio has its own terrace, the perfect place to start the day and there's nowhere better to wind down at the end of the day, with a cooling drink while contemplating one of the legendary Greek sunsets and planning the evening ahead.
Travel & Location
Pefkos is only a 45-minute taxi ride or drive from Rhodes International Airport. Coloma Apartments are situated not far from the centre of Pefkos village and approximately 10 minutes' drive (or for the energetic, an hour's walk) from Lindos.
Booking
Please contact Savvas or Katy regarding your booking, deposits etc. Accommodation can be paid for in either euros or sterling. Savvas and Katy both speak excellent English and would be delighted to assist you with all aspects of your holiday. They can arrange transport to and from the airport, as well as local car hire and excursions.
Testimonials
"Have just returned from Pefkos after a fantastic fortnight. Our accomodation were the Coloma Sudios in Pefkos owned by a lovely couple Savvas and Katy. Nothing was ever to much trouble for them even with the run up to the holiday they were always there to help.

The apartments are truly 5 star spotlessly clean and very modern with all conceivable extras. Make sure you book your next stay in Rhodes at Coloma Apartments
you wont be disappointed."

"What a place! Savvas the owner is a lovely man and they have such a relaxed atmosphere at these studios. The studios themselves are stunning, away from the town so there is no noise at all, but close enough
to wander in to this beautiful town.

The room is very very large with huge double bed and balcony, sitting room and full kitchen with everything you would need. The marble bathrooms have huge mirror bath and shower. The rooms have satellite television, air conditioning and are fantastic."

"First time in Greece and I loved it! Savvas who runs the apartments is a lovely guy. Lovely apartments, so clean, so quiet, with a lovely view and the maid was wonderful.

In short, if you're on a budget but want to eat out every day, stay in a gorgeous apartment and have a very romantic time surrounded by beautiul scenery,
then go to Pefkos."

"Coloma Apartments are lovely. Pefkos is a really nice, chilled great place to go with a family. Savvas and Katie are lovely - we will be going back for our third year in a row in 2009.

What I love about these apartments is that they are much more hotel holiday standard than anything we have ever stayed in in Greece. A lovely big bathroom and very clean throughout with regular maid services."