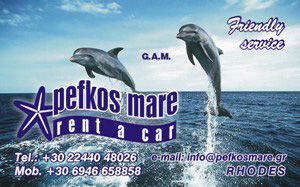 Name: Pefkos Mare (GAM) Rent a Car
Location: Main Road
Tel: +30 22440 48026 and +30 69466 58858
Email: info@pefkosmare.com
Website: www.pefkosmare.com

Like Pefkos Mare's Facebook Page
Pefkos Mare (GAM) Rent a Car have been serving visitors to Pefkos and the island of Rhodes since 1987.
Those who experience the friendly service of our company you are the best advertisement for us.
The only thing we can promise is that we will continue to see you first as friends.
Our prices are the best, throughout the years.