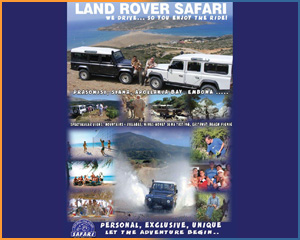 Name: Rhodes Land Rover Safari
Location: Isis Travel Rhodes
Tel: +30 22410 85060
Mobile: +30 6947 998 507
Daily Safari: 09:45 - 17:00 Seat Price: 55 euros
Join us for the ultimate mix of Culture and '4 x 4' Adventure.
Uncover the true beauty of this amazing island – Safari Style!
Experienced British Drivers
Fully Insured Land Rover Defenders
Culture, Myths and Legends
Explore Coast to Coast Scenery
Walk the seas at Prasonisi
Discover the beautiful mountain villages – Siana and Embona
Take Amazing Photographs - Diverse Natural Countryside and Panoramic Views
Complimentary Picnic Lunch and Refreshments
Fun Castaway Beach Activities
Enjoy Island Traditions - Wine, fresh honey, Suma tasting
We drive – so you enjoy the Ride!